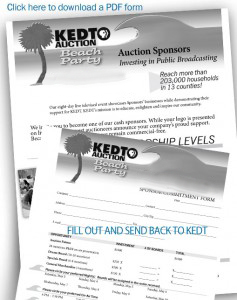 Want to Become A Sponsor?
Click the Image to the left or
Click here for DONOR FORM
Mail, FAX or email the Donor Form back to us!
MAIL KEDT AUCTION, 3205 S. Staples, Corpus Christi, TX 78411
FAX 361.855.3877
EMAIL auction@kedt.org
As an Auction Sponsor you will receive ample air-time of you business name. While auctioneers are presenting items for auction, your business name and company logo are presented on live television. This is a great way to give back to the community and show your proud support for KEDT.