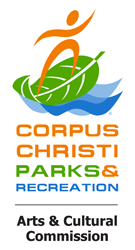 KEDT is pleased to present Spotlight on the Arts.
This program is funded by Hotel Occupancy Tax Funds
by the City of Corpus Christi through the Arts & Cultural Commission.
In the coming months, Spotlight on the Arts will showcase the work of the following recipients of funding from the Arts & Cultural Commission. Your community-owned station is delighted to have this opportunity to further support the lively arts community in our thriving area!
Corpus Christi Ballet
March 30-April 2, 2017
Snow White (April 1-7:30pm & April 2-3pm, 2017)
Corpus Christi Chamber Music Society
April 2, 2017
CC Chamber Music Society Concert Series 2017
Corpus Christi Symphony Orchestra
April 22, 2017
Pops in the Park 2017
Alcorta's Folklorica Diamante, Inc.
April 28 & 29, 2017
5th Annual La Competencia Folklorica De Tejas
Art Museum of Corpus Christi
June 2 – September 10, 2017
The Outwin 2016 American Portraiture Today
The Cathedral Concert Series
June 16, 2017
Cathedral Festival Concert 2017
Ballet Folklorico Viva Mexico
June 24, 2017
19th Annual Free To The Public Show
The Art Center of Corpus Christi
September 2 & 3, 2017
Arts Alive!
Corpus Christi Concert Ballet
October 6-8, 2017
18th Annual Bailando-Dance Festival 2017 Dance Initiative Project
Corpus Christi Chorale
October 9 & 10, 2017
William Doherty's 'Messa di Requiem': A Texas Premiere
K Space Contemporary
October 28, 2017
2017 Dia de los Muertos Festival
Corpus Christi Live!
November 3, 2017
Sirens of Song
TAMUCC Performing Arts Center
December 3, 2017
TAMUCC Furgason Bravo Series (Michael Martin Murphy)
TAMUCC Department of Art
January – December, 2017
Art and the City
Friends of the CC Museum of Sci & Hist
February 2018
Chisholm Trail Family Fun Day