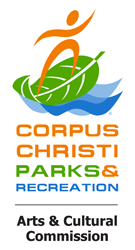 KEDT is pleased to present 
Spotlight on the Arts
.
This program is funded by Hotel Occupancy Tax Funds
by the City of Corpus Christi through the Arts & Cultural Commission.
In the coming months, 
Spotlight on the Arts 
will showcase the work of the following recipients of funding from the Arts & Cultural Commission. Your community-owned station is delighted to have this opportunity to further support the lively arts community in our thriving area!
Art Center of Corpus Christi
(
South Texas Underground Film Festival
)
Art Museum of South Texas
(
Ansel Adams: Western Exposure
)
Ballet Folklorica
(16
th
 Annual free show)
Cathedral Concert Series
(2014 Season)
Corpus Christi Chamber Music Society
(2014 Concert Series)
Corpus Christi Concert Ballet
(
Bailando
)
Corpus Christi Festival of the Arts
Corpus Christi Symphony Orchestra
(
Pops in the Park
)
Harbor Playhouse Company, Inc.
K Space Contemporary
(
Loteria
)
South Texas Botanical Gardens and Nature Center
(Scrapdaddy)
Texas A&M University-Corpus Christi Department of Arts
(
Art: Forms: Art
)