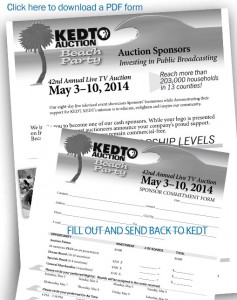 Want to Become A Sponsor?
Click the Image to the left and
download the pdf. form
fill out and send back to KEDT!
Auction Sponsors
help underwrite the costs of production of the Live TV Auction. This seed money allows us to host our 8-night event and raise more than $200,000 for public broadcasting in South Texas.
Being an Auction Sponsor
offers ample air-time and is a great way to give back to the community. While your logo is presented on live television, guest auctioneers announce your company's proud support.
Also, where it says FAX back – can we just say send back?
Because they can do it by email, fax, snail mail
2013 Auction Sponsors
Alice Echo
American Bank
Aransas Pass Chamber of Commerce
AutoNation
Betty Black Realty
BNI - Business Networking International
Borden Insurance
Corpus Christi Hispanic Chamber of Commerce
Crocker Moving and Storage Co.
DocuGraphix Plus
Donna Vickery - Coldwell Banker
D'yan Lopez Insurance Agency
Everest
Fraternal Order of Police
Freebirds
Frito-Lay
Fraternal Order of Police
Gae Callaway @ Legal Shield
Gowland, Strealy, Morales & Co., PLLC
Haeber Roofing Company
Higginbothom/Swantner & Gordon
Janet Allen - Coldwell Banker
Janis McLauchlin - Coldwell Banker
Judy Nichols - Coldwell Banker
Julie Wendl - Coldwell Banker
Kafie Instruments
Kikos
Law offices of Joe Flores
Mary Anne Sinclair
Nueces Co. Farm Bureau
Padre Island Business Association
Pest Fog
Port Aransas Chamber of Commerce
Port Aransas Realty
Portland Chamber of Commerce
Ray West Warehouses, Inc.
Richter Architects
Small Business Development Center
The Island Moon
Tom Hunt - State Farm Ins.
Urban Engineering
Walmart Supercenter on Saratoga
Wendy's
White Stripe Catering
Wright Materials, INC