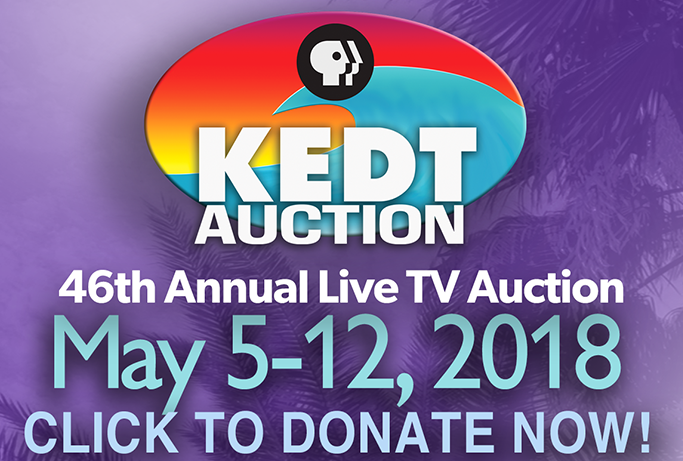 Get an Express Bid Number
Call KEDT at 361-855-2213 to get an express bid number.
Or
click here to receive a number via email (please allow 24 hours)
This is step #1 and will expedite your bidding process.
Early bidder gets the worm!
An Express Bid What?!?
An Express Bid Number allows you to sign up once with all of your contact information. Save yourself valuable time when you bid by giving your name, express bid number and phone number.
6 pm to midnight from Saturday, May 5, through Saturday, May 12.
How do I bid on an item?
• Have your Express Bid Number in hand.
• Curl up on the couch, and tune into KEDT-TV.
• Have the popcorn and soda close at hand.
• Make sure your phone is fully charged, and your dialing finger is in shape!
• Watch the items presented on each board. See something you like? Write down the item number, item name, and your highest bid.
• Call the bid numbers on the screen and place your bid.
• Bid early! Call as soon as you see an item you want to bid on.
• Offer your highest bid. If you try to bid low and call back with a higher offer, you may not be able to get through. Don't let your item get away!
What is a Fire Sale?
Fire Sale items are items under the minimum $60 retail value that are offered for purchase in a rapid, one-minute segment. Fire Sales can take place any night of the auction at any time and are a great way to get some great merchandise at a great price. They are not scheduled ahead of time and you have to watch carefully to catch one.
Secrets of the (bidding) stars:
Bidding seems simple but it can be intimidating, especially with all the excitement our auction creates. Our fun-filled atmosphere gets loud. Sometimes the volunteers have a hard time hearing callers. Volunteers are required to get your personal information every time you call in a bid, even on the same item. Without this information, they cannot post your bid.
With that in mind:
• Speak loudly and clearly.
• Know the item number (phone volunteers cannot accept item description alone).
• Know which color table your item is on, or which board or specials board
• Bid in whole dollar amounts. Bidding starts at 30% of the item's retail value
How will I know if I was the winning bidder?
Our Confirmation Department will call you either the night of or the morning after you win an item. Did we mention the auction atmosphere is barely controlled pandemonium? Please, please do not call us. We love to call our bid winners, and will be in touch as soon as possible! We usually make confirmation calls within 1 hour of the board closing, up to 10 PM
If your board closed after 10 PM, you will receive a confirmation call the following morning. A KEDT volunteer will give you information about picking up and paying for your purchases.
Don't miss out! To help us confirm you are the high bidder, please give us an accurate evening AND daytime phone number where you can be reached for the next 24 hours. If we are unable to reach you, we reserve the right to go on to the next bidder. If the item is not confirmed within 24 hours, KEDT reserves the right to move on to the second-highest bidder or re-stage the item.
We will mail certificates, but not items. If you would like to have your certificated mailed return receipt requested, there is an additional $5.00 charge.
If I was the high bidder and I am unable to pick my item, what are my options?  
Items must be picked up within 24 hours of your confirmation call. Buyers who pick up their items within 24 hours will receive a Whataburger coupon good for one free Whataburger per transaction.
If you will be bidding all week long, but only want to make one trip to pick up your items, we will charge your credit card for each winning bid, and will hold all the items until the auction is over.
We will mail certificates, but not items. If you would like to have your certificate mailed to you, we will charge your credit card and mail the certificate to you.
How does Pick Up & Pay Work?
Pick Up and Pay is located in the front of the building
LOCATION:
3205 South Staples
Corpus Christi, TX 78411
Please do not come to pick up your items until you have been confirmed as the high bidder by confirmation.
If I was the high bidder and I am unable to pick up my item, what are my options?
You must pick up your items within 24 hours of your confirmation call. Buyers that pick up their items within 24 hours will receive a Whataburger coupon good for one free Whataburger. ONE COUPON PER TRANSACTION.
PICK UP AND PAY HOURS:
Sunday May 13, 11am-1pm
Monday May 14, 11am-6pm
Tuesday May 15, 11am-6pm
Auction Terms and Conditions
The items will be offered and sold by KEDT ("The station"). The following terms and conditions, as amended by any posted notices or oral announcements during the sale, govern the sale of all the items listed herein: (a) No Liability: KEDT does not assume any risk, liability or responsibility for the authenticity, quality, or condition of any items presented in this KEDT auction; (b) NO WARRANTIES: ALL ITEMS ARE SOLD "AS IS" WITHOUT RECOURSE, AND KEDT MAKES NO, AND DISCLAIMS ALL, WARRANTIES OR REPRESENTATIONS OF ANY KIND, EXPRESSED OR IMPLIED, WITH RESPECT TO ANY CATALOG ITEM, INCLUDING BUT NOT LIMITED TO WARRANTIES OF QUALITY, FITNESS FOR A PARTICULAR PURPOSE OR MERCHANTABILITY. PROSPECTIVE BIDDERS SHOULD READ AND FAMILIARIZE THEMSELVES WITH THE TERMS, CONDITIONS AND RESTRICTIONS PERTAINING TO ANY AUCTION ITEM BEFORE BIDDING. BIDDERS AGREE THAT NEITHER KEDT NOR ANY OF THEIR EMPLOYEES OR AGENTS SHALL HAVE ANY LIABILITY FOR USE OF ANY PRODUCTS OR SERVICES SOLD THROUGH THE AUCTION, AND THAT THE BIDDER'S SOLE RECOURSE FOR ANY CLAIM SHALL BE THROUGH THE MANUFACTURER OR PROVIDER OF SUCH PRODUCT OR SERVICE.
"All purchases from the KEDT Auction are final, there will be no refunds or credits to your account.  If the company is no longer in business at the time you use your certificate or the item is not exactly what you thought it was, please consider your purchase a donation to South Texas Public Broadcasting Systems, Inc. "
1. All bids placed are binding agreements to purchase. If the highest value bid is not paid in full, the next highest bid may be deemed the purchasing bid. Bids will be considered in successive order until an item is paid for in full.
2. KEDT reserves the right, without giving any reason therefore, to reject a bid from any bidder. The highest bidder acknowledged by KEDT shall be the purchaser. In the event of any dispute between bidders, KEDT shall have the sole and final discretion either to determine the successful bidder or to re offer and resell the article in dispute. If any dispute arises after the sale, the KEDT sale records shall be conclusive in all respects.
3. Unless otherwise stated, any travel expenses including airfare, meals, insurance or supplies needed are at the purchaser's expense.
4. ALL accommodations and many other items are subject to availability with advance reservations required; listen for expiration and blackout dates
5. If your credit card is declined, we will submit it a second time. Then, if payment is not confirmed, the item may be offered to the next highest bidder at the discretion of KEDT. The purchase price represents the value of the item purchased and is not a tax-deductible contribution to KEDT by purchasers, except for that amount of the purchase price, if any above fair market value.
6. The winning bidder must redeem all items and/or certificates within one year from the close of the auction unless otherwise indicated on gift certificates.
7. Manipulative practices in auction bidding will prohibit you from buying auction items.