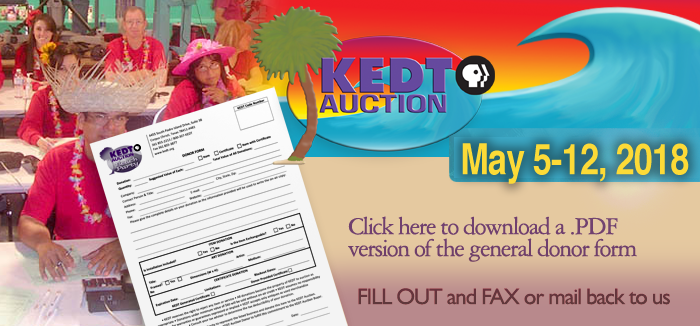 Get the DONOR FORM here,
Mail, FAX or email the Donor Form back to us!
MAIL KEDT AUCTION, 3205 S. Staples, Corpus Christi, TX 78411
FAX 361.855.3877
EMAIL auction@kedt.org
Daily Donor Bonus: Donate an item valued at $60 or more for each night of the 8 day auction. As a Daily Donor you will receive name recognition associated with each item nightly, PLUS name recognition on KEDT's website & KEDT Auction Facebook page.
Table Level ($60-$599): Item or gift certificate featured 1 night during the auction. Donor / Business receives 3 on-air mentions, value determines length of mention.
Fire Sale ($10 – $59): Shown during quick sale with Kippy the Fireman. No on-air or web page mentions.