FOR IMMEDIATE RELEASE
AUGUST 23, 2011
LAGUNA MADRE RADIO SERIES
KEDT-FM proudly announces the production of a 10-part radio series, "The Laguna Madre." The series is an educational outreach effort sponsored by the Harte Research Institute for Gulf of Mexico Studies at Texas A&M University – Corpus Christi. The production is part of HRI's ongoing outreach effort "Gulf Matters: A Series about the Gulf of Mexico, America's Sea."
Beginning Monday, August 29th, the series consists of ten 5- to 6-minute episodes that will air on KEDT-FM 90.3 in Corpus Christi and KVRT-FM 90.7 in Victoria. The episodes will air inside the NPR newsmagazines Morning Edition at 8:04 weekday mornings and All Things Considered at 4:44 weekday afternoons. It will then encore three times weekly through November 18th.
"The Laguna Madre" explores the many attributes of this unique body of water on the South Texas coast through conversations with scientists, fishermen, birders and boaters. The aim of the series is to raise awareness in the region about this wild, coastal gem "right in our own backyard."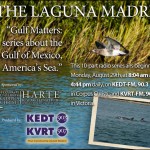 KEDT-FM is the radio arm of South Texas Public Broadcasting, a non-profit, educational institution dedicated to educating, enlightening and inspiring all communities of South Texas. It is an NPR-member station, and airs Classical Music throughout the day.
The Harte Research Institute for Gulf of Mexico Studies is an endowed research component of Texas A&M University-Corpus Christi dedicated to advancing the long-term sustainable use and conservation of the Gulf of Mexico. HRI accomplishes its mission through exceptional, inter-disciplinary scientific research, international engagement, multi-lateral policy formation and the free dissemination of research results to the widest audience possible.
Stewart Jacoby
KEDT-FM
Phone: (361) 850-5717
stewartjacoby@kedt.org
Allison Knight
Harte Research Inst TAMU-CC
Phone (361) 825-2066
Fax (361) 825-2050
Cell (361) 815-0815
allison.knight@tamucc.edu
Steve Paschal
Phone (361) 825-2336
Cell (361) 563-3174
steve.paschal@tamucc.edu