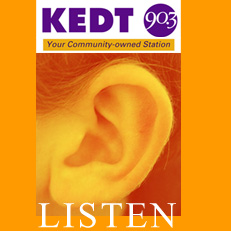 Listen to informative and interesting interviews conducted by KEDT-FM hosts.Our guests have included internationally known scientist Dr. Robert Ballard, actress and mental-health advocate Patty Duke and musician Robert Earl Keen. We'll also post locally produced broadcasts, such as "Your Wholesome Heritage Garden".
Happy listening!
KEDT's Ted Nelson interviews Michael Adams, son of Ansel Adams.
Your Wholesome Heritage Garden,
with Rockport farmer Justin Butts
Beware Online Scams. Interview with the Better Business Bureau
Concussions. How to know the signs that an athlete may have suffered a concussion.
Dress for Success and Coastal Compass Education & Career Resource Center.  
Leanne Winkler interviews helpful organizations
Cost of Diabetes, a Corpus Christi Caller-Times series.
Leanne Winkler interviews series' reporters.
Patty Duke Interview 04-11-13
Robert Ballard Interview
Stewart Jacoby interviews Captain Chuck Hollingsworth, Chief of Staff, Naval Air Station-Corpus Christi, about classes everyone at the base is taking in response to the recent sexual assault scandals in the military.

Secondary School Teacher of the Year- Ibet Caro 03-29-13
Walter Furley Remembered 05-08-13
Your Money Interview 2012-2