August 2013 – TV Programming Highlights
August 2 @ 8pm – Great Performances: Vienna Philharmonic Summer Nights
Led by guest conductor Lorin Maazel, the renowned Vienna Philharmonic presents its annual open-air concert, this year saluting Wagner and Verdi, in the magnificent gardens of Austria's Imperial Schönbrunn Palace. Tenor Michael Schade is the featured soloist. Selections include music from Aida, Die Meistersinger von Nürnberg, Otello, Tristan und Isolde and La Forza del Destino.

August 3 @ 7pm – The Jimmy Dean Show – Country Classics
Relive the early appearances of country stars Chet Atkins, George Jones, Buck Owens, Johnny Cash, Minnie Pearl, Dottie West and many others when they appeared on Jimmy Dean's national television variety series. Hosted by entertainer, actor and musician Roy Clark, these episodes have not been seen in nearly 50 years.
Watch 60s Girl Grooves – Preview on PBS. See more from PBS Arts.
August 3 @ 8:30pm – 60's Girl Grooves
Join host Mary Wilson of the Supremes as she celebrates the greatest girl groups and solo singers of the 1960s, including archival performances from The Supremes, Dusty Springfield, Aretha Franklin, Petula Clark, Martha & the Vandellas, Jackie DeShannon and many other favorites.

August 4 @ 7pm & 8:30pm – Gloria Estefan – The Standards
Seven-time Grammy® Award-winning international superstar Gloria Estefan performs some of her all-time favorite songs, from the Billie Holiday classic "Good Morning Heartache" and her adaptation of Chaplin's "Smile" to her wedding song, "El Dia Que Me Quieras," translated into English for the first time as "The Day You Say You Love Me."

August 5 @ 7pm – A Farm Story with Jerry Apps
Experience farm life in the 1930s and 40s through the eyes of a boy growing up in Wild Rose, Wisconsin, the archetype of rural America, guided by acclaimed author, teacher and historian Jerry Apps. Like a family photo album, this portrait evokes memories of experiences that created the values of hard work, determination and community.
August 6 @ 7pm – Justice for my People: The Dr. Hector P. Garcia Story
KEDT Presents the 10th anniversary of this original production as the community prepares for the upcoming 100th Birthday celebration of Dr. Hector P. Garcia. The life of Dr. Hector P. Garcia – Mexican Revolution refugee, medical doctor of the slums, war veteran, civil rights activist and confidante of presidents – parallels the slow, painful rise of his people to first class citizenship. Garcia's achievements are of historical importance. Through peaceful protest and legal recourse, he confronted the violators of the civil rights of "his people" at the same time that Dr. Martin Luther King Jr. worked for equal rights for African Americans.
August 10 @ 7pm – A Salute to Vienna
Celebrate the musical heritage of Vienna in this lavish music and dance gala concert from the historic Konzerthaus in Vienna, Austria. Hosted by world-famous mezzo soprano Frederica von Stade and Academy Award-winning actor and Vienna native Maximilian Schell, special guests include The Vienna Boys' Choir, Russell Watson, dancers from the Association of the Vienna State Opera Ballet, the Symphony Orchestra of the Volksoper Vienna and an international cast of top singing stars.

August 12 @ 7pm – He Touched Me: The Gospel Music of Elvis Presley
The intensity of Elvis Presley's love and devotion for gospel music is revealed in the documentary HE TOUCHED ME: The Gospel Music of Elvis Presley. Narrated by veteran newscaster Sander Vanocur,. Presley's story is told with vintage photos, interviews and video footage, including some never-before-available scenes of Elvis's impromptu offstage gospel performances. Many interviews reveal that Presley's unshakable commitment to gospel music was tested many times by producers and record label executives, who were later to be surprised when the Grammys overlooked Presley's No. 1 hits in favor of three of his best gospel performances.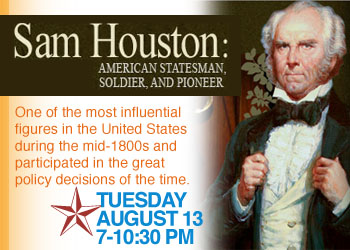 August 13 @ 7-10:30pm
Sam Houston: American Statesman, Soldier and Pioneer
Sam Houston is remembered today primarily for his activities in Texas, but in fact he was also a giant of the frontier and a dominant American political figure in the 1800s. This film is the first to document Sam Houston's remarkable life, in which viewers will find surprising points: the teenaged runaway who fled his controlling family to live with the Indians, the earnest young civil servant almost destroyed by corrupt superiors, the rejected husband who learned too late that his wife did not love him, the alcoholic forced to choose between ruin and sobriety –very modern sounding challenges. Yet Sam Houston lived out a triumphant American story: the only person ever to govern two states, conquering general, two-term President of The Republic of Texas, U.S. House Member, U.S. Senator, and at the end a southerner banished from power and hated for his devotion to the Union. No one who learns Sam Houston's story will ever see American History the same way again.
Watch Broadway Musicals: A Jewish Legacy Preview on PBS. See more from Great Performances.
August 14 @ 7pm – Great Performances: Broadway Musicals: A Jewish Legacy
Why has the Broadway musical proven to be such fertile territory for Jewish artists of all kinds? From Broadway's golden age, names like Irving Berlin, Jerome Kern, the Gershwins, Arthur Laurents, Jerome Robbins, Leonard Bernstein and Stephen Sondheim immediately come to mind. More recently, Broadway babies such as Stephen Schwartz, Marc Shaiman and Andrew Lippa represent a sampling of the Jewish talents who continue to leave their mark on musical theater. Filmmaker Michael Kantor focuses on this central question left largely unaddressed in his Emmy-winning BROADWAY: THE AMERICAN MUSICAL, combining interviews with performance footage, including many of the rousing anthems and timeless ballads America has loved for a century.
August 18 @ 7pm – Churchill (series)
This documentary, narrated by Sir Ian McKellen, explores many of the myths that surround the Churchill legend, revealing the complexity of the real man who was soldier, adventurer, politician, author and arguably the greatest Englishman of the 20th century. The program offers an intimate representation of Winston Churchill's extraordinary character and life, illuminating the forces that drove him. Click here to visit the indepth and informative website on PBS.org on this series on Churchill.
August 20 @ 7pm – The Life of Muhammad
Chart the extraordinary story of a man who, in little more than 20 years, changed the world. In a journey both literal and historical, host Rageh Omaar travels to the place of Muhammad's birth to retrace the footsteps of the prophet, from his humble beginnings in Mecca to his struggles with accepting his prophetic role, from his flight to Medina and the founding of the first Islamic constitution to his subsequent military and political successes and failures — through to his death and his legacy.
August 23 @ 8pm – American Masters: James Baldwin: The Price of the Ticket
AMERICAN MASTERS recounts the life, works and beliefs of the late writer and civil rights activist James Baldwin: what it is to be born black, impoverished, gifted and gay in a world that has yet to understand that "all men are brothers." Baldwin tells his own story in this emotional portrait. Using rarely seen archival footage from nine different countries, the film melds intimate interviews and eloquent public speeches with cinéma vérité glimpses of Baldwin and original scenes from his extraordinary funeral service in December 1987. His close friends and colleagues — even critics — illuminate the narrative, among them writers Maya Angelou, Amiri Baraka and William Styron, and entertainer Bobby Short.
August 25 @ 8pm – Masterpiece Mystery! Silk
This modern, fast-paced legal drama that follows the rivalries, passions and intrigues of criminal law stars Maxine Peake ("Little Dorrit") and Rupert Penry-Jones ("MI-5") as rival barristers Martha and Clive. Written by Peter Moffat ("Criminal Justice").
August 27@ 8pm – The March
Witness the compelling and dramatic story of the 1963 March on Washington, where Dr. Martin Luther King gave his stirring "I Have a Dream" speech. This watershed event in the Civil Rights Movement helped change the face of America. The film reveals the dramatic story behind the event through the remembrances of key players such as Jack O'Dell, Clarence B. Jones, Julian Bond and Andrew Young. Supporters and other testimonials of the March include Harry Belafonte, Diahann Carroll, Roger Mudd, Peter Yarrow and Oprah Winfrey, in addition to historians, journalists, authors and ordinary citizens who joined some 250,000 Americans who thronged to the capital on that momentous day to peacefully demand an end to two centuries of discrimination and injustice.
August 31 @ 10pm – Film School Shorts
Film School Shorts is a new weekly series that showcases short student films from across the country. Each week, viewers can watch hot new episodes featuring quirky comedies, slice-of-life dramas and hard-hitting thrillers from cutting edge filmmakers. Short Films + Big Productions = Film School Shorts. PSIP or Guide Description: The best shorts from U.S. film schools, emerging filmmakers offer fresh new perspectives.