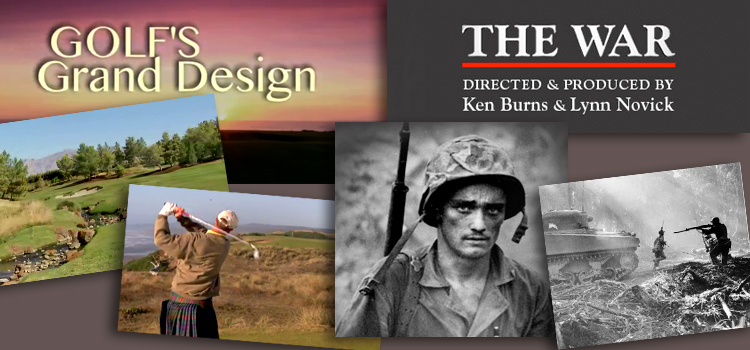 Golf's Grand Design Friday, August 3,9pm
The history and role of golf course architecture in America, including a look at the unique relationship between the people who play the game and the places where they play. Included are interviews with course architects Jack Nicklaus and Pete Dye.
THE WAR
Sunday, August 5, 8pm
Pride of Our Nation: June 1944 – August 1944
The events of June 6, 1944 (D-Day), when Allied troops stormed the beaches of Normandy, are recalled by several veterans who took part. While the casualty toll is huge, the victory enables the Allies to push the Germans out of France.
Monday, August 6, 9pm
FUBAR: September 1944 – December 1944
By September 1944, Allied success in Europe leads some to believe the war will soon end, but U.S. and British forces on the German border face a fuel shortage; a plan to drop airborne troops behind enemy lines goes awry.
Tuesday, August 7 8pm
The Ghost Front: December 1944 – March 1945
On Dec. 16, 1944, the Nazis launch a counteroffensive in the Ardennes Forest in Belgium and Luxembourg. This Battle of the Bulge (as it came to be known) catches the Allies by surprise.
Wednesday, August 8, 8pm
A World Without War: March 1945 – September 1945
The final months of World War II are chronicled, including the death of President Roosevelt; the discovery of Nazi concentration camps by U.S. and British troops; and the Germans' surrender on May 8, 1945. In the Pacific, however, the war drags on.