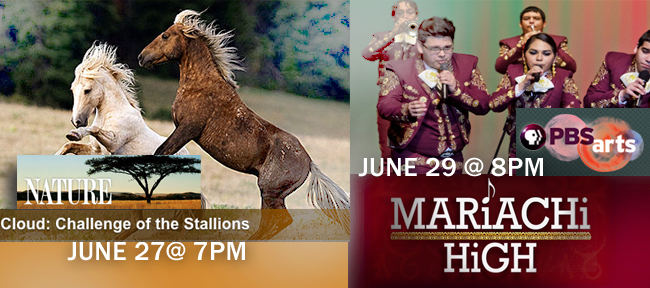 June 27@ 7pm
Nature: Cloud Challenge of the Stallions
The continuing saga of Cloud, the wild, white stallion, returns viewers to the Arrowhead Mountains of Montana. Cloud is now a confident band stallion in his prime. As he rules the mountains, gathering mares and expanding his reign, the story turns to his two sons. Bolder is his by birth – beautiful and golden, the success of his father and grandfather flowing in his veins. Flint, sired by another stallion, is the colt Cloud raised. Now, Bolder has gathered some mares of his own, while Flint has joined a group of bachelor stallions, young guns roaming the mountains. Who will rise to challenge the mighty Cloud? Will nature or nurture produce the next great stallion of the Arrowheads?
June 29 @ 8pm
PBS Arts: Mariachi High
In a part of America that rarely makes headlines, there is a small town with a group of teenagers who will inspire, surprise and bring you to your feet with their astonishing musical virtuosity and the music they make. MARIACHI HIGH spends a year in the life of the champion mariachi ensemble of Zapata High School on the Rio Grande in south Texas.