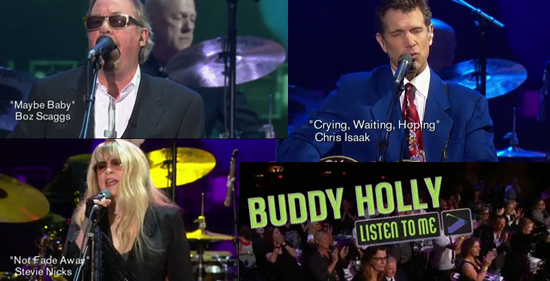 Buddy Holly: Listen to Me – The Ultimate Buddy Party
Friday, June 8 — 7:30pm
A Buddy Holly tribute, featuring Stevie Nicks ("It's So Easy"); Shawn Colvin ("Learning the Game"); Boz Scaggs ("Maybe Baby"); Graham Nash ("Raining in My Heart"); Raul Malo ("Listen to Me"); Lyle Lovett ("Well All Right"); Cobra Starship ("Peggy Sue"); Chris Isaak and Michelle Branch ("Heartbeat"); Patrick Stump ("Oh, Boy"); and Paul Anka ("It Doesn't Matter Anymore"). Also: video salutes from Jackson Browne, Imelda May, Keith Richards, Ringo Starr and Brian Wilson. Host: Peter Asher.